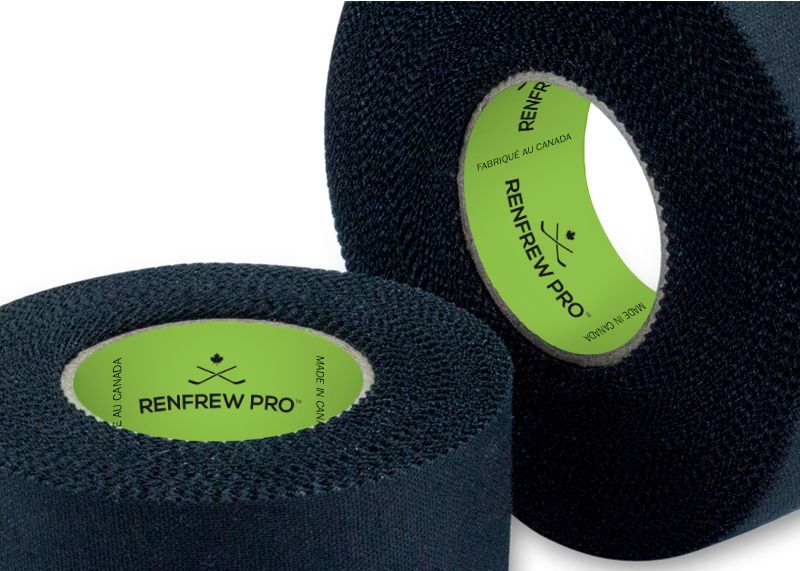 Pro-Blade XT – the NEW ultimate hockey tape from Renfrew Pro
As the market leader in hockey tape, Renfrew Pro™ supplies the vast majority of professional hockey teams in North America. As such, Renfrew Pro Hockey Tape has been in the dressing rooms of every Stanley Cup championship team over the past 20 consecutive years.
Over the past thirty years, Renfrew Pro has been at the forefront of product innovation, demonstrated its leadership in identifying the needs of players such as with the introduction of "Polyflex™" in 1986, targeting specific products for specific applications.
Using unrivalled product development expertise and market intimacy, Renfrew Pro's most recent product innovation is in black hockey tape. With the creation of Pro-Blade™ XT hockey tape, Renfrew Pro has introduced a product that has superior characteristics, to give users the advantage every time.
Pro Blade™ 503XT is designed with superior wear, to last longer on the blade and features a superior adhesive formulation to ensure the tape sticks to the blade longer. It has introduced the concept of serrated edges to provide for easier tear, while eliminating the frustrating frayed edge common to traditional hockey tapes.
To accompany the launch of this innovative new product, the Pro-Blade 503XT black hockey tape will feature Renfrew Pro's new look - bright green cores - to give the Renfrew Pro brand greater visibility.
Put the Pro-Blade™ XT experience to the test! The Pro Blade XT product will be available at your local retailers by June, 2014.